CLAS Banner Award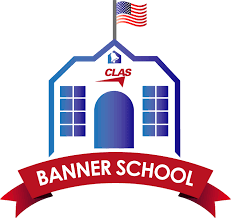 ---
The banners have gone up at E.R. Dickson Elementary, which has been named a CLAS Banner School. E.R. Dickson was chosen for this honor due to its L.E.A.D.ers of Technology Program (Leadership, Engagement, Achievement and Diversity), which allows students to build strong foundations in STEM literacy, utilizing student-led activities in preparing them to be future leaders in technology and STEM related fields. #LearningLeading
Here is a little information about CLAS Banner Schools:
CLAS Banner School Award
The CLAS Banner School Award originated in 2001 with the purpose to identify, recognize, and publicize schools with outstanding educational programs which serve as models across our state. Recognition is among all State Board districts with four exemplary schools selected from each district as a CLAS School of Distinction, resulting in thirty-two CLAS Schools of Distinction. Eight Banner Schools will be selected from the Schools of Distinction, one from each State Board district. The thirty-two CLAS Schools of Distinction are celebrated at an Awards Luncheon where the eight Banner Schools are announced. The honored principals and superintendents are recognized and presented with a CLAS banner to display in their school signifying this distinguished honor.