Red Ribbon Week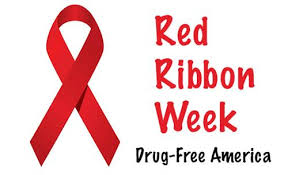 ---
2020 Red Ribbon Week
E. R. Dickson Elementary School
• Monday, October 26, 2020 – Theme = From Head to Toe, We are DRUG FREE!
Wear your favorite hat and socks to school.
• Tuesday, October 27, 2020 – Theme = Life is a Journey! Travel DRUG FREE!
Dress like a tacky tourist! If you don't have any tacky tourist clothing, you can wear: a shirt you got on vacation – or a sunhat and sunglasses – or wear a fanny pack, etc.
• Wednesday, October 28, 2020 – Theme = Give Drugs the Boot! Wear your favorite cowboy, winter, or rain boots to school.
• Thursday, October 29, 2020 – Theme = Hooked on Books, Not Drugs!
Dress like your favorite book character. This is also Read for the Record Day
• Friday, October 30, 2020 – Theme = RED RALLY!
Wear a RED shirt and accessories to school.